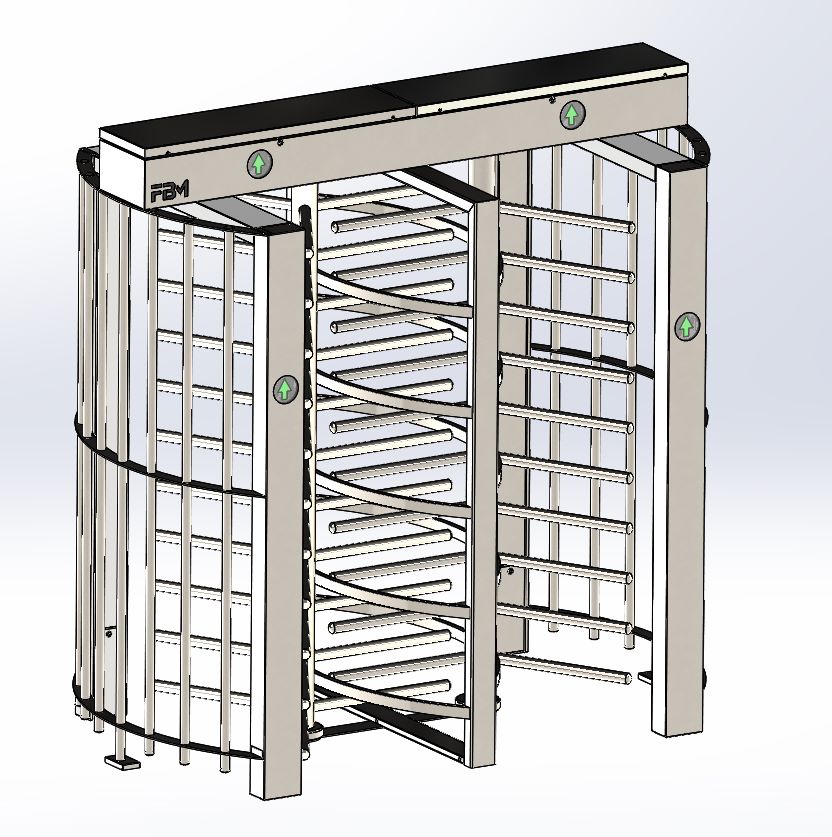 TURN GATE double is a double turnstile. This double passage, controlled and managing access for pedestrians, offers space savings and significant cost reductions compared to two turnstiles installed side by side. It is ideal for applications with heavy foot traffic, such as stadiums or large factories. Can be supplied fully welded or assembled.
The FB Mecasystem TURN GATE double full-height double turnstile is a double lane with bidirectional flow designed to guarantee security and fluidity of passage to intense regular traffic. Available in electromechanical version or motorization with servo control. Ruggedly designed, the installation of this full-height double turnstile is perfect for locking an indoor or outdoor perimeter to ensure automatic access control in the absence of security personnel. Its resistance and low energy consumption make double TURN GATE an essential double-direction turnstile for installations in areas with regular intensive traffic that require a high level of security. All FB Mecasystem engineers have scrupulously studied the entire design chain in order to offer the best value for money for the TURN GATE double turnstile. Multiple options are available such as a pointed or diamond roof, lighting, space dedicated to the installation of an intercom and the integration of camera and identification equipment. It offers different finishes such as STAINLESS STEEL AISI 304, AISI 316, AISI316L, RAL galvanized paint to choose from, passage dimensions (standard, 700, 800 and others on request). It is compatible with any type of electronic identification and access control system.
Benefits
Can be supplied completely welded or in disassembled condition, which has a perfect effect on transport costs;
The turnstile is bi-directional;
According to the conditions of the installation location and the requirements of the customer, different types of materials can be produced;
Y-type or X-type rotor according to your choice;
Easy integration with any type of ACS;
Low power consumption and quiet operation;
Possibility of customization
Fail safe or fail secure for your choice;
Indoor / outdoor application.