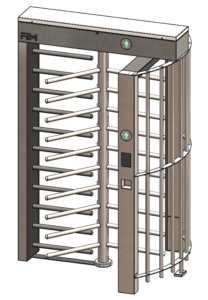 TURN GATE is a type of one lane full height turnstile. It ensures an anti-vandal level of security for a wide variety of possible applications: stadiums, factories, parks and all premises with the highest security requirements. Sturdiness and durability are guaranteed by a rugged fully welded design.
Benefits
Can be supplied fully welded or in disassembled condition, which has a perfect effect on transport costs;
The turnstile is bidirectional;
Depending on the conditions of the installation location and customer's requirements, different kinds of materials can be produced;
Y-type or X-type rotor according to your choice;
Easy integration with any type of ACS;
Low power consumption and quiet operation;
Possibility of customization
Fail safe or fail secure for your choice;
Indoor / outdoor application.